Regular price
Sale price
$12.00 USD
Unit price
per
Sale
Sold out
Introducing our Relaxation Yoga Hedgehog Fascia Ball – the perfect companion for your journey to unwind and rejuvenate. Crafted with care and designed to enhance your yoga and relaxation practices, this unique Hedgehog Fascia Ball is here to elevate your well-being.
Key Features:
Textured Relief: The specially designed hedgehog-like texture of the ball provides targeted relief to sore muscles and fascia. Roll away tension and stress, allowing your body to find its natural balance.

Versatile Use: Whether you're a yoga enthusiast, an avid fitness buff, or simply in need of a relaxation tool, this fascia ball is versatile and adaptable to various exercises. Incorporate it into your yoga routine, Pilates, or use it for targeted self-myofascial release.

Durable and Portable: Made from high-quality, eco-friendly materials, our Hedgehog Fascia Ball is built to last. Its compact size makes it easy to carry in your gym bag, purse, or even keep it at your desk for quick relief during a hectic day.

Enhanced Circulation: The gentle pressure applied by the textured surface stimulates blood circulation, promoting healing and recovery. Use it to soothe tired muscles and improve flexibility, ensuring your body is ready for whatever life throws at it.

Mind-Body Connection: Unwind not just your body but also your mind as you incorporate this Hedgehog Fascia Ball into your relaxation routine. Focus on your breath, release tension, and allow the calming effects of the ball to create a profound mind-body connection.

Easy to Clean: Maintain hygiene effortlessly. The Hedgehog Fascia Ball is easy to clean, ensuring a hassle-free experience every time you use it.
Invest in your well-being with the Relaxation Yoga Hedgehog Fascia Ball – your pathway to a more relaxed, rejuvenated, and balanced you. Embrace the soothing power of self-care and make every moment count.
Product information:
Material: PVC
Weight: 66
Diameter: 70mm
Whether to inflate: No
Applicable scene:
Fitness equipment, fitness body, dance sports
colour:
Taro purple PVC star diamond fascia ball, pink PVC star diamond fascia ball, impression black PVC hedgehog fascia ball, fairy powder PVC hedgehog fascia ball, sky blue PVC hedgehog fascia ball, sweet taro purple PVC hedgehog fascia ball
Package:
Fitness ball x1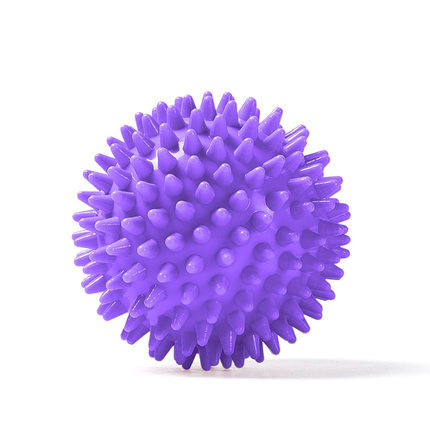 Share
View full details